How To Handle a Dental Emergency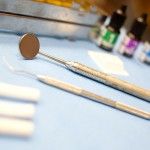 All emergency situations are stressful situations, and dental emergencies are no exception. They can be traumatic, painful, and scary for people of all ages. Knowing how to handle a dental emergency ahead of time can give you the knowledge and quick decision that is often needed in order to protect your oral health and possibly save your teeth.
One of the most traumatic dental emergencies to occur is for a permanent tooth to become injured. Your permanent teeth are meant to last for a lifetime, and if something happens to one (or more), there will be needed measures that must happen in order to restore your smile. Any damage to your permanent teeth needs to be addressed immediately. If your permanent tooth has been knocked out of the mouth or loosened from its socket, you need immediate intervention. Time is of the essence in order to save a permanent tooth because the longer the tooth's roots are cut off from their blood supply, the quicker the tooth will die.
If you have experienced a tooth that has been knocked out or knocked loose, if at all possible try to keep the tooth in its socket. This will encourage the tooth to reconnect to its roots within the socket so that it sustains its life source. If it is not possible to keep or replace the tooth in its socket, keep the tooth moist in a small amount of milk as you make your way to the dentist. By keeping the tooth moist, there will be a better chance that the roots will still be viable for reconnection once placed back in its socket. Successful reconnection of a knocked out tooth is not always possible, but if you are able to receive immediate intervention the chances are much greater.
Other types of dental emergencies include:
A cracked or broken tooth
A damaged dental bridge or crown
A lost filling
An infection or abscess around a tooth
An injured jaw
Dental bleeding
Swelling inside the mouth
Tooth pain
Tooth sensitivity
It is these types of dental emergencies that often pose more of a threat to a person's oral health simply because many people choose to ignore these issues until they become actual emergencies. It is important for you to understand that dental issues do not resolve on their own. While there are some non-urgent issues that can wait for a few days to be seen by your dentist, any of the above listed issues need to be addressed right away to avoid long-term damage to the mouth.
At Siena Dental, we are here for your dental emergency situations. Please contact our practice right away with any dental concern or emergency. We are here for you during this stressful time, and we will go the extra mile to restore your oral health.
Posted on behalf of Dr. Dave Mahon, Siena Dental
Siena Dental
10075 S Eastern Ave, Suite 107
Henderson, NV 89052
(702) 567-0000