Tooth Restorations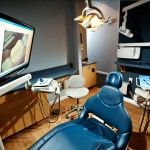 While the permanent teeth were designed to last a lifetime, there are certain circumstances that cause the teeth to need restoration. Tooth restorations are done to allow people's smiles a second chance. You use your teeth throughout the day for many purposes – they help you chew your food so that it is easily eaten and digested, they allow you to smile, and they allow you to speak and communicate clearly with others. Restorative dental treatments are done to correct issues with the teeth so that the mouth can function at full capacity and remain at its ultimate health. At Siena Dental, we are the trusted source for restorative dentistry in Henderson, NV. Dr. Dave Mahon is able to offer patients a personalized approach so that he can develop a custom treatment plan to restore their smile.
Your smile is one of your most personal features, allowing people to recognize you and making them feel welcomed (or unwelcomed) into your presence. If your smile is not up to your standards so that you do not feel comfortable showing it off to the world, or if you have missing teeth or other oral health issues, tooth restorations can bring your smile back to life and back to health. Tooth restorations are done in order to correct issues in the mouth structure so that your teeth can function properly and remain healthy. Dr. Mahon and the team at Siena Dental are proud to specialize in many areas of restorative dentistry. Our practice offers the following:
• Dental bridges
• Dental crowns
• Dental implants
• Dental onlays
• Denture repair
• Full and partial dentures
• Laser therapy
• Tooth colored fillings
• Tooth extractions
• Veneers
If you need tooth restorations to achieve a smile that you are comfortable showing to others and one that will remain healthy, contact Siena Dental today. We want to help you achieve a healthy and beautiful smile that can last for a lifetime!
Posted on behalf of Dr. Dave Mahon, Siena Dental
Siena Dental
10075 S Eastern Ave, Suite 107
Henderson, NV 89052
(702) 567-0000