Your Child's First Dental Visit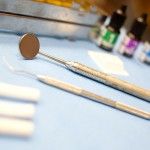 Dental cleanings and checkups are important elements of proper oral health. Parents are responsible for their children's health care from a very young age, but most parents are shocked to learn that children should visit the dentist for their first dental appointments by the time their children reach their first birthday. It is not surprising that most parents do not think of taking their 12-month olds to the dentist seeing that they rarely have more than 2 to 4 teeth! However, the American Dental Association and the American Academy of Pediatrics both recommend that all children visit the dentist at a very young age.
Here's why:
Early exposure alleviates dental anxieties. When children are brought into the dentist's office from a very young age, they understand that going to the dentist is just a normal part of life. Children that grow up visiting the dentist twice a year are comfortable with the dentist's office, cleanings, and checkups. This is the number one reason that it is recommended that children be taken to the dentist by their first birthday. Children who are not brought into the dentist's office until they are 5 or 6 years of age are much more likely to have negative emotions about a dental visit. By proactively working to make children comfortable with the dentist, they are set up for a lifetime of positive dental experiences.
Educate parents for a child's proper oral health. All parents are responsible for taking care of their children's teeth until they are old enough to do so on their own. This begins at a very young age when babies begin to develop their first teeth. It is important for parents to begin brushing these baby teeth twice a day in order to keep them as clean as possible. It is also important for parents to understand the connection between diet and their children's teeth. Juice, sweet tea, and soda have no place in a young child's diet due to their high sugar content. Carefully selecting foods and beverages that are healthy choices are very important to the development of strong and healthy teeth.
Break bad habits early. It is important for parents and dentists to intervene when it comes to habits such as thumb sucking, sucking on fingers, pacifiers, and using a bottle or the breast to fall asleep. All of these habits are completely natural for very young children, but they can cause a great deal of damage to the teeth if they are allowed to continue past 12 months. Dentists and parents can work together to find successful ways to break children from these habits in order to successfully promote oral health.
At Siena Dental we are proud to treat patients of all ages with exceptional dental care. We welcome the youngest patients into our practice, and we encourage you to call today to schedule an appointment for your child. Good oral health begins from the very start!
Posted on behalf of Dr. Dave Mahon, Siena Dental
Siena Dental
10075 S Eastern Ave, Suite 107
Henderson, NV 89052
(702) 567-0000