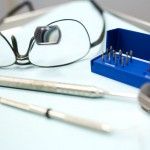 Dental implants are often described as the greatest advancement in dentistry in the last century. Dental implants are replacement teeth that look, feel, and function like natural teeth more so than other tooth replacement options. They are an ideal solution for the majority of people who have suffered tooth loss, one that can ultimately benefit your entire oral health.
Dental implants are actually replacement tooth roots that are surgically placed into the jaw bone. The tooth "roots" – known as replacement anchors – are made from titanium. Titanium is the ideal material because of how the body accepts this material, allowing the jaw bone to fuse with the anchor so that it becomes a permanent object inside the mouth. Dental implants act as a base for dental prostheses including a single replacement tooth, multiple replacement teeth, dental crowns, and implant supported dentures or bridges.
Dental implants are successful due to the process known as Osseo integration. This process is when an implant can be surgically placed into the bone and the bone begins to fuse with the implant as though it is a natural part of the body. Of course, this process takes time. Dental implants, especially for those who are having multiple teeth replaced, can take up to a year for the full process to be complete. Dental implants are often quite a bit more expensive up front than the alternative tooth replacement options. However, most dentists and patients worldwide agree that dental implants are worth the time and money. Because dental implants are a permanent solution to missing teeth, they should last for years and years – perhaps the rest of your life. Dentures, crowns, and bridges are notorious for needing to be replaced approximately every 7 years. In thinking of the time and money spent on paying for repeated tooth replacements, most people come out to the good with the investment of dental implants.
Dental implants provide patients with a natural, beautiful smile that functions naturally. It is easy to eat with dental implants, you do not have to worry about them slipping or making clicking noises, and they benefit the mouth by filling in missing bone matter. Dental implants are a durable, permanent solution for tooth loss. Contact Siena Dental to learn more.
Posted on behalf of Dr. Dave Mahon, Siena Dental
Siena Dental
10075 S Eastern Ave, Suite 107
Henderson, NV 89052
(702) 567-0000